Astoria Public Service Building
---
Posted on February 28th, by raskin in
Blog
.
Comments Off on Astoria Public Service Building
---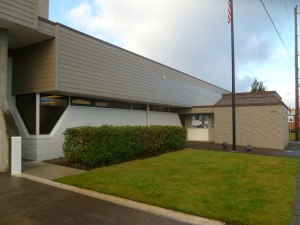 One of the buildings I have been working on recently was the Astoria Public Safety Building , which has been remodeled.  The building serves as a combined fire station and police station.  There was a small addition added to expand the Police Department, and the space was reorganized to be more efficient.  More importantly, the building was seismically upgraded to meet existing essential facility code standards.
The building was built in 1976 and is the work of Brown, Brown & Grider, a local Astoria firm that included Ebba Wicks Brown (the first women to become an architect in Oregon).  The building was built stout enough that the seismic upgrade was fairly straightforward and besides improving connections and tying the roof to the walls, the only visible change was infilling one of the fire station bays.  Locals will notice that the parapet walls were raised, but this was done to increase roof slope and add insulation, rather than for any seismic reason.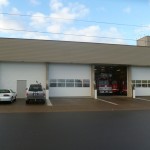 The work was funded by a State Seismic grant for the upgrade of essential facilities which Astoria was fortunate to receive.  This type of seismic work often goes unnoticed.  However, it is an essential part of Oregon becoming resilient in the face of natural disasters.  The upgrade insures the ability of the fire and police to respond.  The building also houses the Emergency Operations Center, which is activated following any disaster.
The users of the building are pleased and the City is happy that it came in under budget.
---
---