tsunami
---
The following is a repost of a Facebook post done Tom Horning, a geologist and city councilor, who lives in Seaside, Oregon and has been a long time advocate for preparing for a Cascadia earthquake and tsunami. He granted me permission to get it out to a wider audience:
The GREAT AMERICAN SHAKEOUT occurred in Seaside at 10:18 AM. A few seconds of modest seismic shaking was followed by 3 to 5 minutes of violent wracking that knocked the terracotta roofing off of City Hall and collapsed the brick bell tower of the fire station onto the fire trucks in their parking bays.
---
On the anniversary of the last Cascadia earthquake and tsunami 315 years ago, OPB has done an excellent series of stories called "Unprepared: Will We Be Ready for the Megaquake?"   As the articles points out, a large Cascadia earthquake and tsunami can occur anytime, and it reviews how prepared we are and compares it to the recent earthquake and tsunami in Japan.  They also have a nice little app called "What's My Risk".  You can put in your address to see where critical buildings are located nearby and what their risk of collapse are.   At the bottom of the page,  you can find out if  your local school has been retrofitted.   The information was available online, but the app shows it in an interactive and friendly way, making this information more … Read More »
---
Posted on June 19th, by raskin in
Blog
.
Comments Off on Tsunami Mapping on the Oregon Coast
DOGAMI has just released an amazing series of tsunami maps for the entire Oregon coast.  They include the latest tsunami evacuation maps that show the inundation area of the largest tsunami generated from a distant event (in this case a tsunami generated by a subduction zone earthquake generated in Alaska), and a worst case Cascadia earthquake and tsunami.  This latest generation tsunami inundation mapping started with the Cannon Beach map, shifted down to southern Oregon and is now completed for the coast and mouth of the Columbia River.   These maps build on the previous generation maps and, by incorporating the best current science and modeling, can help prevent the significant loss of life such as experienced in Tohoku.  The proviso is that Oregon and the coastal communities must maintain effective tsunami evacuation planning and education.
The other … Read More »
---
Posted on February 23rd, by raskin in
Blog
.
Comments Off on Living in the Wake of 3/11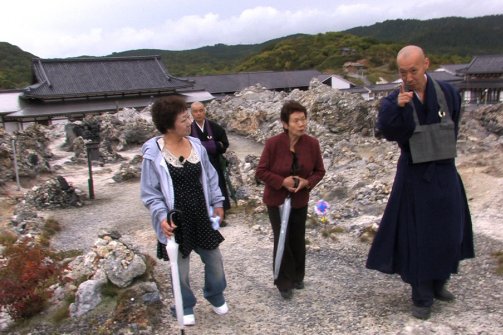 Japanese director Hideo Nakata has created a documentary film, Living in the Wake of 3/11,  about the Tohoku earthquake and tsunami which opens in Japan today, a few weeks before the second year anniversary of the disaster which happened on March 11, 2011.  Filmed in July through October following the disaster, it explores the lives of people impacted by the tsunami.  It may be released in the US later this year and I will see the movie if I can, although with mixed emotions. I followed the unfolding of the Tohoku earthquake and tsunami and looked at many of the videos that appeared on Youtube, as well as read what I could afterwards.  The knowledge that this event was a good example of what will happen to the Oregon coast when a Cascadia earthquake strikes provided an emotional wallop that … Read More »
---
The City of Newport has a created a tsunami interpretative trail in the South Beach area.  Coastal communities have been very creative in Cascadia preparedness and this trail is just one among many efforts.  Knowledge about tsunami's is the key to saving lives and this interpretative trail system should be expanded along the entire Oregon coast.  Places on the coast that show distinctive geological features related to tsunami inundations or subduction zone earthquakes could have interpretative plaques.  Historical plaques can tell of the impact of previous tsunami's or relate to the folklore of coastal Indian traditions talking about tsunami's.  These traditions relayed information about what to do when the sea withdrew suddenly (a sign a tsunami is coming) and tied them to geological markers.  In the Clatsop tribe stories, Haystack Rock was an overturned basket and the story reminded listeners … Read More »
---
Posted on February 6th, by raskin in
Blog
,
Seismic
.
Comments Off on The Oregon Resilience Plan Adopted
The  Oregon Resilience Plan was adopted by OSSPAC and will shortly be on its way to the Legislature.  OSSPAC was tasked by the Legislature with developing this plan in 2011, and with the help of over 150 volunteers, divided into 8 task groups and an advisory committee, produced a report that takes a comprehensive look at the impacts of a Cascadia earthquake and tsunami will have on Oregon, and makes recommendations to reduce that impact. The draft report and the executive summary are available from Oregon Emergency Management (OEM).
The report builds on a conceptual framework developed by the San Francisco Planning + Urban Research Association (SPUR) and a similar effort in the state of Washington.  This framework includes looking at impacts of a scenario 9.0 Cascadia earthquake on business continuity, critical buildings, transportation, energy, water/waste, telecommunications, and the coast.  It … Read More »
---
Posted on December 14th, by raskin in
Blog
.
Comments Off on Five Ways to Recover Faster 'From The Big One'
A good article from Tom Banse of Northwest Public Radio about the efforts of Oregon and Washington to make each state more resilient in the face of a Cascadia earthquake/tsunami.  I recommend listening to the radio report portion as well.
---
New York is considering how they should rebuild in the wake of Hurricane Sandy and the discussion is highly relevant to Oregon's efforts to prepare for the Cascadia earthquake and tsunami.  Mayor Bloomberg's proposed solutions for making New York City more resilient is quite reminiscent of discussions held by the Oregon Seismic Safety Policy Advisory Committee (OSSPAC) this last year in developing the Oregon Resilience Plan requested by the Oregon House.   New York is faced not only with more frequent, larger storms, and rising sea levels, but with a waterfront which now consists of expensive development that replaced the working water front of earlier years.  New York University's Institute for Public Knowledge held a forum called "How Should New York Rebuild?" where various options and their implications were addressed.  While seismic resilience is the major question for Oregon in … Read More »
---
Posted on November 9th, by raskin in
Blog
.
Comments Off on Schools leading the way

The citizens of Portland voted overwhelmingly to pass a bond measure that upgrades a number of Portland schools.  It pays for some basic seismic upgrades on a 26 schools and completely modernizes three high schools and one grade school.  It is a first step to the modernization of all Portland's schools, which at the end will be safer,  will meet the education needs of today, and will cost less money to operate and maintain.  The energy savings alone will help make these schools more sustainable.  The school district has also balanced out the safety and energy needs with maintaining the historic fabric that makes many of these schools beloved landmarks.
Out at the coast, the Seaside School District is embarking on a program to rebuild all of the schools to meet the highest seismic standards to insure they will not only … Read More »
---