Dr. Harvey Award
---
---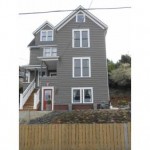 The City of Astoria has it own historic preservation awards, the Dr. Edward Harvey Historic Preservation Award,  named after Dr. Harvey, who was instrumental in creating the historic preservation movement in Astoria.  The award is presented each year to recognize property owners who have completed exterior restoration or beautification of a building which exemplifies the historical attributes of the building or the architectural heritage of Astoria.  Of the three projects awarded this year, I was the architect for two of them.   The Columbia River Maritime Museum won the institutional category for the renovation of the Astoria Train Depot, and Bob and Nancy Ross won the multi-family category for the renovation of the Finn Housa property.
It has been one of the pleasures of doing historic preservation work in Astoria that I have been able to work on a number of projects that end up gaining community approval and recognition.  The award is rightfully given to the owners of the properties, who have the vision, commitment, and love of these historic buildings to start and see them through to completion.
My congratulations to the Columbia River Maritime Museum, Bob and Nance Ross, and to Mike Covert (who won the single family residence category).  I also salute the City of Astoria for it ongoing commitment to historic preservation and its foresight in offering recognition for the efforts of its citizens.
---
---