Depot Update 11/14
---
Posted on November 15th, by raskin in
Blog
.
Comments Off on Depot Update 11/14
---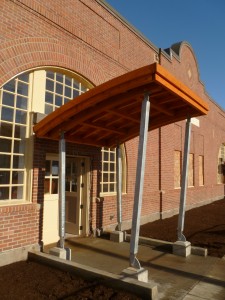 The entry canopy structures are completed.  The metal roofing and the gutter between the roof and the building are the next steps.  On the west side, the building sign is installed. The building is named  the Barbey Maritime Center following a generous donation to the Museum by the Barbey family that have a strong history both with maritime activities on Columbia as well as Astoria.
The interior trim is being installed and painted.  The building has plenty of natural light streaming into the spaces.  So much so, that I finally have to backtrack a bit on the comments I have made in the past about the original design.  I had questioned why the architect had done a building with a flat roof and no overhangs.  While I still question the lack of protection at the doors, I realize now that the intent was to bring in as much natural light as possible, something that was difficult to appreciate when the windows had been boarded up until fairly recently in the renovation.  The design allows for very tall windows that bring light well into the building.  The construction lights were superfluous on a nice sunny day.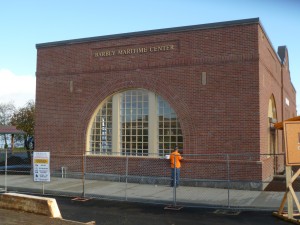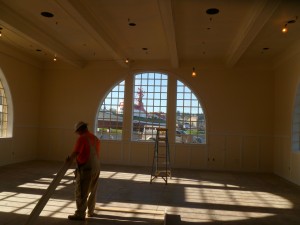 ---
---